I am about to have my Tecumseh HH100 reassembled after having the engine block & head machined due to warpage. The engine is from a 1967 Suburban 10, model #143.579042. The Tecumseh number is 115052A. The trouble I'm having is that engine has 9 head bolts, 6 are 2.25", 2 are 1.39" & 1 is 2.0". When I reference the Tecumseh 8-18 hp manual it describes model numbers after mine that have different headbolts sizes. Does anyone know where I can get an earlier manual for my engine so I can determine which length bolts go in which holes? Thanks
hi gang , best advice i can give is the 2 short bolts go over the intake and exhaust ports. don't know where that leaves the odd 2". are they all stock bolts ? you can always set the head on the cylinder and use something like a small drill to use as a depth gauge to measure the overall depth of the hole . best i can do without a picture at this time , glad to see you found a shop that could fix your broken bolt problem , hope this helps > tim
just to add head bolts should be torqued to 200 inch pounds in 50 inch pounds increments with a criss crossing pattern. > tim
Yes they are the original sizes, right out of the engine manual that came with the tractor. Thanks Tim for the suggestion on measuring the depth of the holes, better than drying to run the bolts in & out of each hole.
Found this in my old service manual. Not sure if it will help.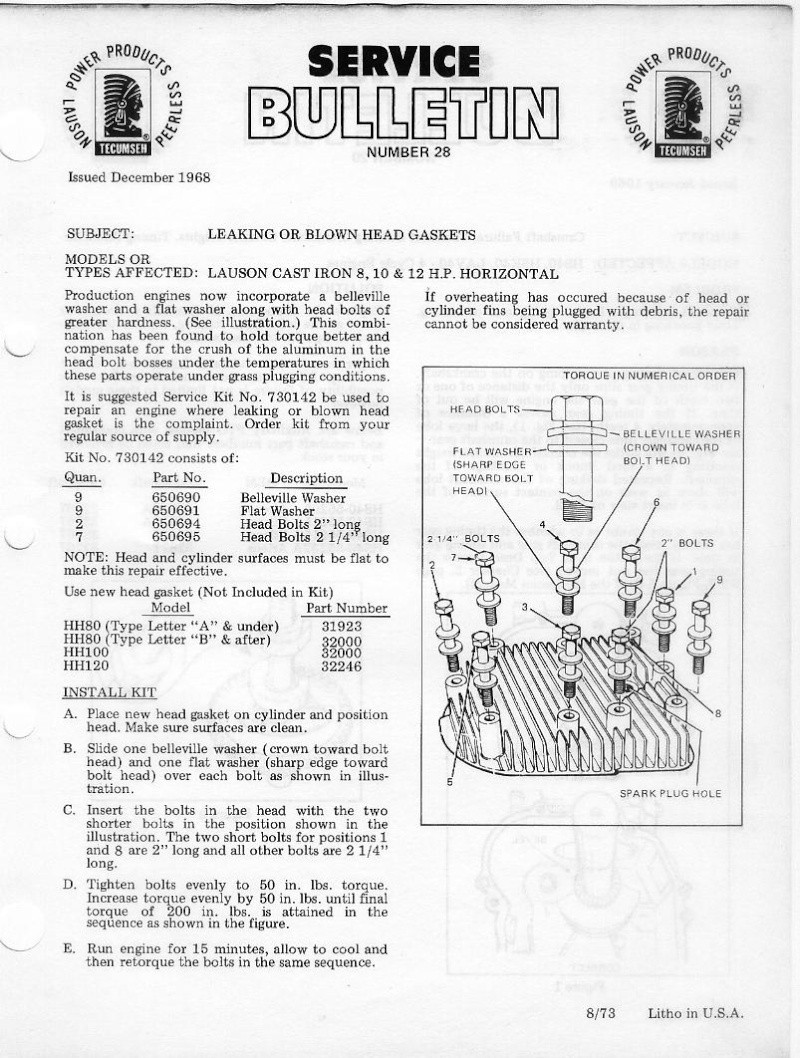 " />
Admin




Number of posts

: 168


Registration date :

2008-05-15



Thanks, I haven't seen this particular publication. The bolt sizes are different, 2 inch & 21/4 inch verses my Sears manual that shows 1.38 inch, 2 inch & 21/4 inch. Curious though since this is a 1968 publication and my HH100 was built in '66 or '67.
gang, is the head shaped like the one pictured in the manual , with all the bolt "post" at the same height ( above or level with the cooling fins ) ? if not the same head shape a short bolt may go in a hole with the contact surface below the cooling fins . just a thought , > tim
Good point, my head doesn't have the posts. Now that you mention it I do see the posts in the drawing. I used to have a 1968 Suburban 12 that had that type of head & I remember noticing the difference between the two.
when you assemble everything back together use anti-seize on all the bolts , protects against heat and corrosion > tim


Similar topics
---
Permissions in this forum:
You
cannot
reply to topics in this forum